Product Description
The Aspara Smart Grower is simple to use with its mobile application (available on iOS and Android), and built-in planting programs!
We build systems for growing healthy plants, that are healthy for humans and healthy for the Earth. Located in Hong Kong Science Park, the city's technology and innovation hub, Growgreen is a team of passionate professionals from the agriculture and electronics fields, that applies technology to enhance planting. We develop smart hydroponic planting systems for homes, support STEM education for schools, and promote healthy lifestyles among the community.
Our goal is to enable healthy living for everyone. We address the needs of individuals, families, schools and communities. We believe that everyone can learn to grow and harvest plants with ease and everyone can enjoy a healthy and beautiful life.
Simple to Use in 3 Steps
Step 1: Add water and plant food to the grow tank
Step 2: Insert seed capsules
Step 3: Choose a planting program
Features:
Growgreen Patent-Pending, LED Grow Lights with Variable Spectrum
Stimulate the growth of different plants at different growth stages, and alter the light spectrum and intensity automatically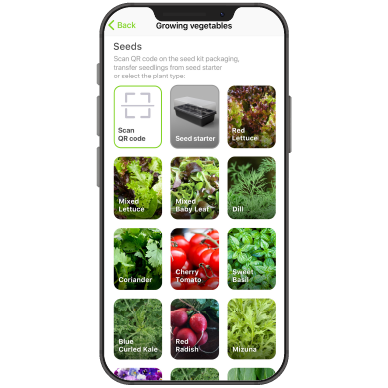 Built-In Planting Programs
Provide specific planting programs for each plant species. Designated planting programs help plants grow 50% faster!

aspara® Mobile App
Connect aspara® Stylist Lite with our app to extend the smart grower's function. Monitor and control the smart grower, get planting guidance and tips, and share the successful planting with friends and family!
(Available in the App Store and Google Play Store)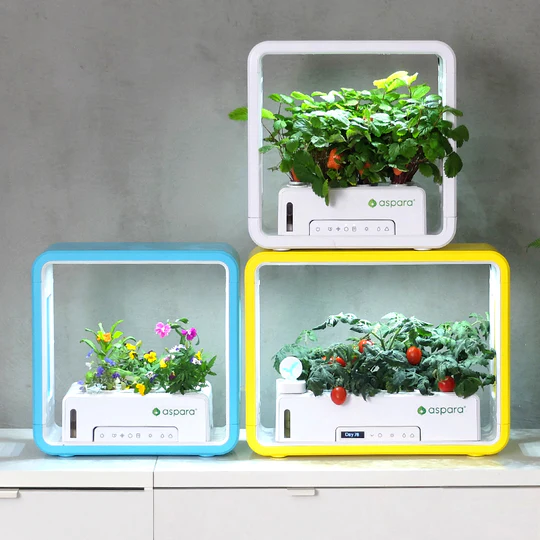 Customize with Height Extension Side Panels and Stackability
Compact design with an ideal height for different types of vegetables, herbs, fruits or flowers.
(Height extenders sold separately)
FAQs
How many plants can I grow each time?

aspara stylist lite has room for 8 plants to grow at a time. To help your plants grow healthy and strong, we suggest the maximum number of seeds to be planted in 1 time:

Salad vegetables (e.g: kale): 8 capsules
Herbs: 12 - 16 capsules
Tomatoes: 4 capsules
Radishes: 8 - 12 capsules
Flowers: 12 - 16 capsules
What is the voltage of the aspara® smart grower?

aspara® smart grower operates within a range of 100-240V (50-60Hz)
What happens if I am going on vacation? Will my aspara® be okay?

aspara® smart grower circulates water so that your plants can keep growing even when you are on holiday. We recommend that you fill up the water tank and switch the planting speed to "slow" when you are away. You can monitor and track the plant conditions instantly using the aspara® app on your mobile device. You can switch back to auto growing after your holiday!
How can I change between online and offline modes?

You can shift from offline to online mode only after the planting program ended. Simply press the "resent" button on the device to switch from online to offline mode.
How do I clean my device between each growing session?

The device should be hand washed with the aspara® cleaning function between each session, or if it has not been used for a while. Make sure the planting program has ended (finished planting) before cleaning.
Product Specifications
Length: 15.4 inches / 39 centimeters
Width: 6.2 inches / 16 centimeters
Height: 15.4 inches / 39 centimeters
Weight: 7.72 pounds