This month's newsletter is a technological clash of the titans, we've got AudioMoth, we've got 60GHz radar from SparkX, and we've got thermal video on the interwebs.
Radar-zilla Acconeer A111 Breakout Board
Legends say the monster was created in a secret lab, hidden deep under the Colorado Rockies. Engineers at the top-secret SparkX laboratory were designing a breakout board for the A111 60GHz radar chip, but they made one crucial mistake....IT WAS TOO GOOD OF A DEAL! Designed to be the apex predator, Radar-zilla can measure distance, and sense speed, motion, and gestures...all with cunning precision. With an integrated antenna and SPI clock speeds of up to 50MHz, the beast knows no bounds. Radar-zilla exploded out of the lab and tore a war path through the internet, offering incredible value for all radar projects. Some say the beast waded into the ocean, looking for a new challenger, others say you can still hear its chilling cry...BOOP...BOOP...BOOP.
PTMini-Pro Rising
[White Noise] WE INTERRUPT THIS PROGRAM TO BRING YOU BREAKING NEWS COVERAGE. We're here in Reno, Nevada, covering a developing story on the emergence of a new monster from the notorious GetLab group. These are the same mad scientists behind the infamous DEAL-MAGEDDON, which absolutely decimated the internet with the PureThermal 1, PureThermal 2, and PureThermal Mini. The trio of boards proved to be too versatile, affordable, and reliable, forcing them to be locked away. WHAT… THE… AHHHHHHHHH, IT'S THE PURE THERMAL MINI - PRO...OH ...MY...IT HAS A LEPTON 3.0. THEY CAN'T BE OFFERING 15% OFF NEW HARDWARE ALREADY, DON'T THEY KNOW THAT THIS DEAL IS CRAZY!
Audio-Mothra Update
Radio-zilla has emerged out of the English Channel, releasing a mighty BOOP to frighten lesser electronics. In a silent flurry of green and white, radar-zilla is knocked down with a thundering crash. Stunned by the spectacle before them, onlookers cannot comprehend what just happened. Ancient legend tells of a magnificent green beast, draped in white, who has no eyes, but can hear everything...all the way down to -18db. IT WAS AUDIO-MOTHRA. As Radar-zilla retreats to fight another day, Audio-Mothra soars into the night sky, looking to finish Round 7. Experts predict that Audio-Mothra will complete its Round 7 flight quicker than expected, landing in mid August. (To shine a light through the theatrics, AudioMoth Round 7 is being manufactured quicker than expected so orders will begin shipping out in the coming two weeks)
Gapuino is Funded
Mankind grows weary of being subject to the whim of technological beasts and their incredible value. The world's greatest engineers have gathered to create their own weapon against the beasts, one that can think and learn on its own. After months of deliberation and revision, the mission was accomplished. Based on the new RISC-V architecture, the GAP8 processor emerges as the technological weapon that will defend man from the beasts. This multi-core defender is able to run AI and IOT applications on battery power alone, thanks to its ultra-low power consumption. Additionally, GAP8 is able to rapidly adapt to any situation thanks to the included SDK and development hardware. A campaign to put GAP8 in every city was set up, and is already 100% funded. Get GAP8 while you can, or fall prey to the mighty Radar-zilla and Audio-Mothra.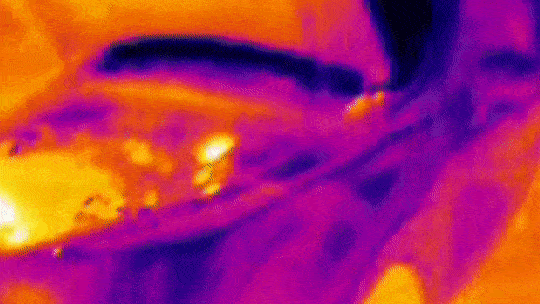 NetThermal
With GAP8 in place and the monsters at bay, there was only one step left. Mankind needed a detection system to alert GAP8 of an impending fight, but who could tackle such a challenge? CANADA! Percept Systems has risen to the occasion and designed the NetThermal, a Wi-fi enabled thermal camera utilizing the new PureThermal Mini-Pro and FLIR Lepton. NetThermal is a simple to use, DIY kit that allows you to connect and stream thermal footage from anywhere. Thanks to the NetThermal, mankind is once again safe from the terror of Radar-zilla and Audio-Mothra… OR ARE WE!?